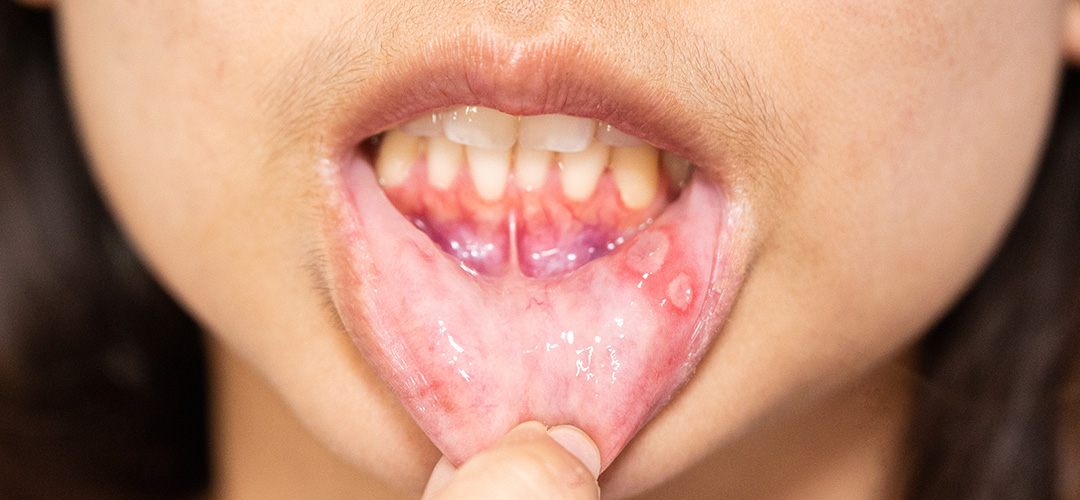 MOUTH ULCERS
Mouth ulcers are small painful ulcers that appear on the tongue, the lining of the cheeks and lips or the gums. They can be single or multiple. While most mouth ulcers are harmless, they are very painful and can cause considerable discomfort in eating, chewing, speaking and swallowing. A consultation with a dentist is a must for recurrent mouth ulcer problems.
CAUSES FOR MOUTH ULCERS
There are number of reasons for mouth ulcers. Some of the most common causes are injury or trauma due to sharp teeth, caps and dentures. Other common causes include stress, gastrointestinal problems, vitamin deficiency, and infections. People who use tobacco in any form should be worried about ulcers that can be cancerous.
HOW LONG DOES A MOUTH ULCER TAKE TO HEAL?
Unfortunately, there is no overnight cure for mouth ulcers. Mouth ulcers need time to heal. Generally, mouth ulcers take 7 to 14 days to heal. However, some larger ulcers can last even longer. Your dentist would be able to prescribe some ointments and tablets to reduce the pain and fasten the healing process.
ARE MOUTH ULCERS DANGEROUS?
Most mouth ulcers are small harmless ulcers that heal over a period of 2 weeks. Occasionally mouth ulcers can be cancerous especially in people with habits such as smoking or tobacco chewing. These ulcers can be dangerous if not treated early.
SIGNS OF DANGEROUS MOUTH ULCERS
An ulcer that is non-healing for more than 3 weeks
A painless non-healing ulcer
An ulcer that is gradually increasing in size
An ulcer that bleeds on touching or while chewing
An ulcer that keeps recurring
ARE MOUTH ULCERS CONTAGIOUS
Ulcers that are of infectious origin due to bacteria, virus or fungus can be contagious.
DOS AND DONTS IN MOUTH ULCERS
DO
Use a toothbrush with soft bristles
Use a straw to drink fluids
Eat a soft and bland diet
Eat a healthy and balanced diet rich in green leafy vegetables and fruits
Visit your dentist regularly
A non-healing ulcer of 3 weeks or more should be examined by a dentist or doctor and further investigations carried out
DON'T
Stop eating spicy, salty or acidic food
Avoid crispy and crunchy food items
Do not use toothpaste with sodium lauryl sulphate
Do not neglect oral hygiene