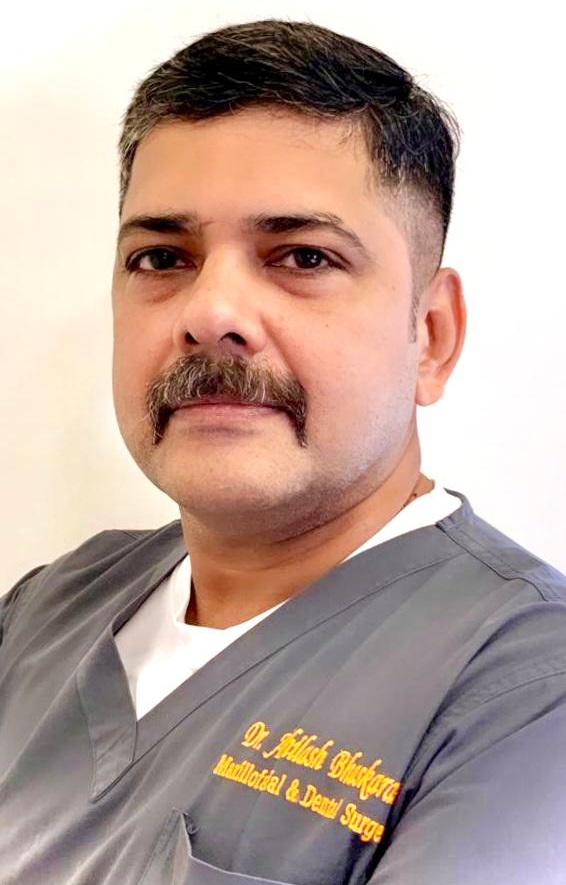 Dr Abhilash Bhaskaran graduated from the College of Dental Surgery, Manipal University in 1997. He bid farewell to the University in flying colours in 2000 after completing his post-graduate training in the speciality of Oral and Maxillofacial Surgery. Further to this, he worked with the Faculty of Oral and Maxillofacial Surgery at Sri Ramachandra Dental Hospital and Research Institute, Chennai until 2002, following which he left to the United Kingdom to pursue his training in the speciality.
Over 8 years, Dr Abhilash Bhaskaran has worked in various reputed hospitals across the United Kingdom. He has had extensive exposure to all aspects of Oral & Maxillofacial Surgery and routine dental problems during this time.He completed his Fellowship (FFD RCSI) from the Royal College of Surgeons of Ireland, Membership (MFDS RCS) from the Royal College of Surgeons Of England and the Licentiate exam by the General Dental Council, UK.
He has attended several training programs like the Dental Implantology course by the University of Sheffield, Conscious Sedation course by the Society for Advancement of Anesthesia in Dentistry, Immediate Life Support course by the Resuscitation Council, UK etc to name a few. He has several presentations and papers to his credit. Currently, he is the Senior Consultant Maxillofacial & Dental Surgeon at Gleneagles Global Hospital and Health city, Chennai and also MGM Health care, Chennai.