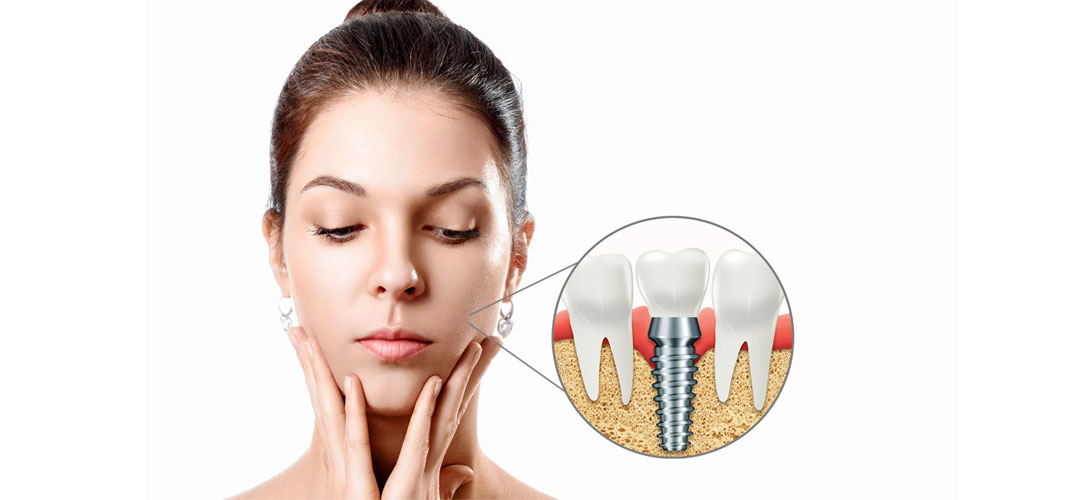 WHAT ARE DENTAL IMPLANTS?
The dental implant is a technique used to replace missing teeth. A dental implant is nothing but a titanium screw that is placed into the jaw bone. This screw-in effect acts as the root of the tooth on which a tooth can be placed.
HOW MANY TEETH CAN BE REPLACED BY DENTAL IMPLANTS?
Dental implants can replace any number of teeth from one to the full set of teeth. The number of dental implants required depends on the number of teeth to be replaced.
ARE DENTAL IMPLANTS PAINFUL?
The procedure is carried out under local anaesthesia. So, the procedure by itself is not painful. However, mild swelling and pain after the procedure are to be expected for 2 to 3 days just like after tooth extraction. The dentist will give a good pain killer to control the pain and swelling.
HOW SAFE ARE DENTAL IMPLANTS?
Dental implants are very safe. They are made of titanium and is the most biocompatible material, in the sense that it is the safest for the body. The plates and screws used by doctors to fix fractures of bones are made of titanium as well.
WHEN IS THE BEST TIME TO PLACE DENTAL IMPLANTS? 
The best time to place dental implants is soon after the extraction of the tooth. The dental implants can be placed into the extraction socket immediately after dental extraction.
ADVANTAGES OF DENTAL IMPLANTS
Other techniques of teeth replacement require support from adjacent teeth. In effect, some intentional modifications to adjacent teeth are unavoidable. Dental implants do not take support from adjacent teeth at all. It is self-reliant and hence a better replacement option compared to other techniques.
TIME TAKEN FOR DENTAL IMPLANTS
Once a dental implant is placed into the jaw bone, adequate time is needed for the implant to integrate into the jaw bone. It can vary from 3 to 6 months depending on the bone quality. During this time a temporary tooth can be placed on the dental implant.
PERCENTAGE SUCCESS OF DENTAL IMPLANTS
The success of dental implants depends on lots of factors like quality of bone, patients' medical status, oral hygiene etc. to name a few. In addition, at times the body can reject implants. Generally, the success rate of dental implants is about 95 per cent.